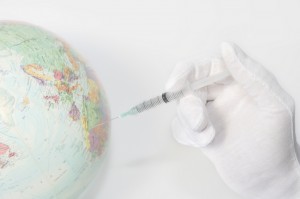 News accounts have reported lingering public suspicion about the safety of the H1N1 vaccine. Much of this coverage traces to a widely reported Associated Press poll conducted Oct. 1-5, that found 72 percent of those surveyed are worried about side effects. More than half say that those concerns wouldn't stop them from getting the vaccine to protect their kids; the AP poll found that 38 percent of parents said they were unlikely to give permission for their kids to be vaccinated at school.
Rumors about the H1N1 vaccine are also spreading through spam and email hoaxes. Snopes.com showcases an example of one of these email fakes.
A Flu.Gov released an information product called "Myths and Realities" to address public concerns.
Tagged: Care and Treatment, flu, h1n1, influenza, swine flu, US News, Vaccine Updates