The good news.  In the week ending Nov. 21, CDC reports that 32 states were reporting widespread influenza activity, down from 48 states a month ago.  Influenza-like illnesses accounted for 4.3 % of outpatient visits, down from nearly twice that proportion in October, but still well above the seasonal norm of 2.3%.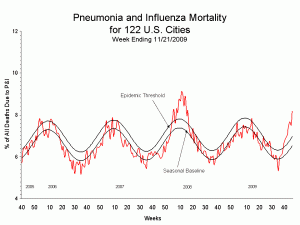 The bad news.  H1N1 continues to exert a toll on young persons.  There were 35 pediatric deaths (persons aged 17 and younger) for the week ending 21 Nov. and 27 of these deaths were confirmed due to H1N1. This represents the largest one-week increase since the advent of H1N1 in April.
In the wider picture, mortality from pnuemonia and influenza, which was 8.2% of all deaths reported to CDC, has been above epidemic thresholds for eight consecutive weeks. The ongoing epidemic also appears a factor behind a "worrisome spike" seen in dangerous pneumonias in patients under age 65, in particular, among those at greater risk for pnuemonia due to chronic health conditions.
The forecast.  The consensus among public health experts is that another wave of H1N1 activity will occur.  However, opinions are mixed as to the timing of that wave. With the onset of winter, the best conditions for flu transmission, an increase in seasonal influenza is expected.  Hence, the dropoff in H1N1 presents a paradox.
Baltimore Sun: Doctors wary of swine flu's apparent dip
CP: Is there a 3rd wave of H1N1 in the cards for this winter? Who knows?
HealthDay: U.S. Swine Flu Cases Chart Sharp Decline
The Lancet: H1N1-Associated Invasive Pneumonia Increasing 
LA Times: Decline in H1N1 continues